Welcome to Buellton Veterinary Clinic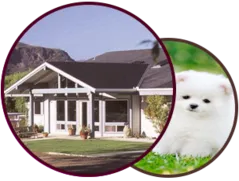 Dr. Joni Samuels, Dr. Diana Bochenski, Dr. Mary Margaret Gross, Dr. Kate Napawan and Dr. Tina Taylor welcome you to the Buellton Veterinary Clinic website.
Our main phone number is 805-688-2334 and our direct boarding line is (805) 693-9666. We are open Monday through Saturday from 8:00am to 5:30pm for your convenience.
We offer complete veterinary care for your pets including annual wellness exams, parasite control, dentals, puppy, kitten and senior health exams, pain management, vaccines, routine and orthopedic surgeries as well as boarding, and grooming.
We now have our own Online Pharmacy! Just click and shop anytime night or day. Your order will be delivered to your door!
Report your lost pet on PawBoost
Buellton Veterinarian | Buellton Veterinary Clinic | 805-688-2334
914 West Highway 246
Buellton, CA 93427
Report your lost pet on PawBoost