On behalf of the staff at Buellton Veterinary Clinic, we are honored to pay respect to our beloved animal friends who have passed. We also welcome you to create a lasting tribute for your beloved pet or animal friend on our website's Pet Memorial page. Please feel free to complete the following Pet Memorial Form in Adobe Acrobat format, which requires the free Acrobat Reader to view.
Download & Print Questionnaire
Aspen Reyes 04/20/2016-11/06/2023
You were in search of your forever family and you chose us the first time we saw you at Old Yeller Rescue. You have given us nothing but joy and love these past 7 years. We love and miss you everyday. This will always be your forever home.

---
Ripley- October 11, 2016 - March 27, 2023
You were one of a kind – yes, we did not know it when you were born, but you lived up to your name "Ripley Believe It or Not". You had a kind heart, complete devotion to your family which includes your other owner Reagan and your extended family Adam, Kat, Mason, Marlee, Morgan and Maddox. You were there for any of us that needed you. You visited Papa Dave in the hospital when he was sick and every day for 5 years until you couldn't anymore, you were his constant companion. In his travels, I think you must have met hundreds of people in the valley and I am sure brought a winkle to their eyes also. Every morning before the rest of the world awoke, you were at my side, getting my day started, picking up the mail, keeping me company, and of course, waiting patiently for your breakfast. Even now I hear the clicking of your paws on the floor, and your eyes staring at me until I wake up, and the clinking of your collar when I get home at night.
You and Maddox had a birthday with 1 week of each other and you loved and protected him from the moment he was a baby. Many was the time, I caught you cuddling and napping with him and of course, dropping food off his highchair while you were patiently waiting at his side.
We never had to worry when we had to leave because you fit right into Adam and Kat's home; you followed Kat around like you followed me, loved wrestling with Adam and cuddling with all the kids. And of course, playing with Sammie. They all miss you too. Rest Well Ripley…….
"We loved you for your whole life and We will miss you for the rest of ours."
---
Señor Gustavo (Gus)- February 25th 2023
Gus was deeply loved by everyone in our family, especially our two young son's, Austin & Carter. He is missed more beyond measure!

---
Misfit- February 4th 2023
Misfit lived her life happily and fully and her family will always hold a spot in their hearts for her.
---
Betty Februaury 2006- September 2022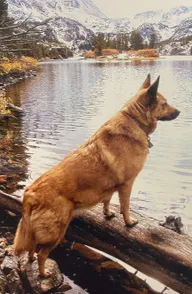 Betty was a special dog who brought us joy and companionship for nearly 17
years.
---
Peach - May 2, 1999 - August 15, 2008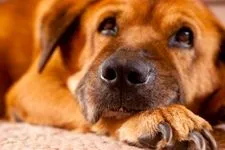 In loving memory of our best friend, Peach, who we love so very much. She will be in our hearts forever.
Peach was such a loving friend and companion who had such a rambunctious and playful heart. Her favorite pass times include chasing our cat freckles around the house, cuddling on the couch and going for walks at the doggy park. Everyone she met instantly fell in love with her. She will be always remembered in our hearts and dreams. We miss you so much! - Love, Bob, Olivia and Kids
---
Buddy - July 29, 1998 - January 12, 2009
In loving memory of our beloved Buddy. You will be greatly missed and in our hearts forever.

Buddy's name says it all. He was everyone's buddy, always licking toes and playing with his tug-o-war toys. We could never be in a bad mood with you around. We miss our best friend so much already. We hope that wherever you are, you are having fun running and chasing other doggy friends. We love you so much; you will be in our hearts forever and ever. - Love, Mom

---
Leo - August 4, 1996 - February 18, 2009
In loving memory of Leo, our best friend and loving companion. Thank you from the bottom of our hearts for all the fun times and memories.

Leo will always be remembered as the most loving friends anyone could ever ask for. He was so good at chasing mousey-toys and romping and playing in the curtains or clean laundry right out of the dryer. He was a loving kitty soul who loved naps in the afternoon sunshine and cuddling up at the foot of the bed every night. We miss you and love you so much! - Love always, Kim & David

---
Buddy - September 11, 2003 - July 25, 2015
You came into our lives and left paw prints on our hearts. You will always be my "Monsta" -Suzy